We've been working for a while already to make this moment possible and, finally, we are proud to announce that our online store is up and running. Let me explain you few things you should know and consider about our store.
We aren't professional dealers, but we know the business and what's important for the customer. Therefor, we've put all our efforts to make the shopping experience easy and, most important, safe.
The online store might suffer some redesigns as we'll be adding more and more products soon. We'll need to categorize the products for an easier browsing and purchasing.
We'll try to keep the stock updated with pimp stuff mostly. We can't compete with big shops at selling regular staples, but, we can offer some stuff that is very hard to find.
You can access the shop from the sidebar banner, the top menu tab or the shopping card link.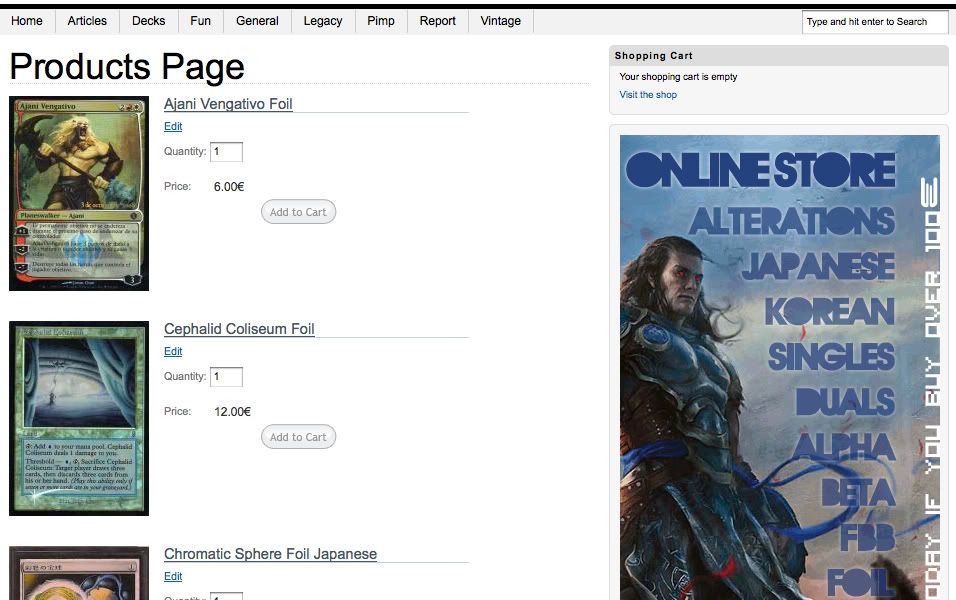 Many people has asked me (piZZero) if I sell some of my cards from my personal collection. I'll be using the online store to sell some rare items from time to time. Stay tuned if you want to be the first to notice about these special items.
HAPPY SHOPPING!
Some of our store policies:
(these might be updated and gathered soon on a FAQ page for our store)
Shipping
Team Pataners uses a flat shipping rate of 3€. This rate covers for registered shipping to anywhere in the world. In case of orders superior to 100€, shipping will be free. If customer would like to purchase an insurance for the shipping, please contact us before making the payment.
Shipping times varies between 1 to 4 weeks usually, depending on where you live. Shipments to Italy might take a bit longer.
Team Pataners does not held responsible for any lost shipment. We totally recommend using an insurance if your order is over 100€.
Privacy
Team Pataners is committed to protecting your privacy. We only use the information we collect about you to process orders and to provide support and upgrades for our products. Please read on for more details about our privacy policy.
How does Team Pataners protect customer information?
Since we only accept Paypal payments, customers at the checkout will be redirected to the PayPal web to fill in their personal information. Paypal is the safest way to use your money on the internet, that's why we use it.
Will Team Pataners disclose the information it collects to outside parties?
Team Pataners does not sell, trade, or rent your personal information to others. Team Pataners  may provide aggregate statistics about our customers, sales, traffic patterns, and related site information to reputable third-party vendors, but these statistics will not include personally identifying information.
Refunds
Team Pataners does not refund money to customers who aren't satisfied with their purchases. If you have any problems with your order, we encourage you to contact us and explain the situation. Team Pataners will make everything possible to solve any problematic situation.
One Response to "The Team Pataners Online Store is up!"